Action Core
Is the Means of distributing critical Legislative Information to the Members of the Veterans of Foreign Wars. With today's unrest in the Legislative system, we must constantly bear pressure upon our Legislators on working towards our Goals on service.
The Easiest way on doing this is by signing up for the
VFW Action Core
! Yet, in light of the All American Program, it is best to use the Text Method! This will ensure proper accounting to your Post Participation and Credit! In accordance with the VFW National All American Program, each Post must increase their Post Participation by at least 5 Members.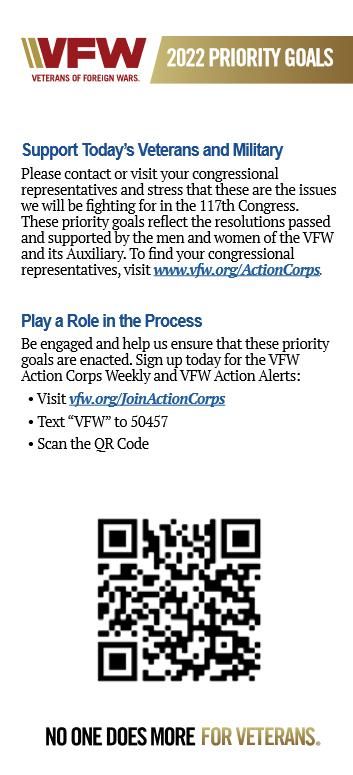 To sign up: Text
"VFW" to "50457"
to sign-up five previously unsubscribed members or VFW supporters.
You will get periodic updates delivered directly to your Email with links of action that you can take to pursue this mission.

Legislative Priorities
The location of our Washington, D.C., office allows us to monitor all legislation affecting veterans, alert VFW membership to key legislation under consideration and to actively lobby Congress and the administration on veterans' issues. National Legislative Service establishes the VFW's legislative priorities and advocates on veterans' behalf. By testifying at congressional committee hearings and interacting with congressional members, the VFW has played an instrumental role in nearly every piece of veterans' legislation passed since the beginning of the 20th century. Everything we do on Capitol Hill is with the VFW's Priority Goals and veterans' well-being in mind. With the strength of the more than 1.5 million members of the VFW and its Auxiliary, our voice on Capitol Hill cannot be ignored!